Participation in Madrid Es Ciencia – Celebration of Science Week in Madrid
The Madrid Es Ciencia science fair event took place in Madrid from 2nd to 5th March 2022. As part of this, Cillian Thompson (ESR 12) was asked to present his research conducted in IMDEA Materials under the theme of innovative materials of the present and within that the sustainability and the future of biomedicine. Cillian showcased the 3D printer which he uses in IMDEA Materials for printing biomaterial composites for his project. He showed examples of 3D printed models of jaw bones with built-in defects and a 3D printed scaffold to be able to fit the defect to aid in the explanation of his work. Through a constant flow of people to the stand, Cillian had the opportunity of speaking in Spanish to both adults and children about his work and found it very fulfilling to see the interest in younger people who all of a sudden wanted to become biomedical engineers! Cillian spoke to young people that were still in secondary school contemplating what they would like to do in college, informing them about the numerous opportunities that can come from studying engineering. Cillian also enjoyed learning about the other projects being carried out by his colleagues in IMDEA Materials and helping to explain those projects to the general public.
Talk to students about printing in biomedical engineering
On 15th November 2021, Cillian Thompson (ESR 12) gave a talk to a group of school students who were visiting IMDEA Materials on a day trip. The students were interested in 3D Printing and biomedical applications. Cillian had the opportunity to spend some time explaining to the students about the work that he does, including material mixing to form composite materials and filament fabrication, designing a desired part on the computer such as a bone screw/plate or scaffold and then printing that shape with the new material.
Falling Walls Lab MSCA Competition 2021
Falling Walls Lab is a world-class pitch competition, networking forum, and a stepping stone for the next generation of researchers, innovators, trailblazers, creators, and visionaries. Swati Nandan (ESR 3) took part in the 2021 competition, with her entry entitled 'Breaking the Wall of Peripheral Artery Disease'. Swati's entry was selected as one of fifteen finalists and she took part in an online final event on 30th September 2021, where she explained her research in a 3-minute pitch and answered questions from a judging panel. Well done Swati and to all who took part. The Falling Walls MSCA Final is available to watch here.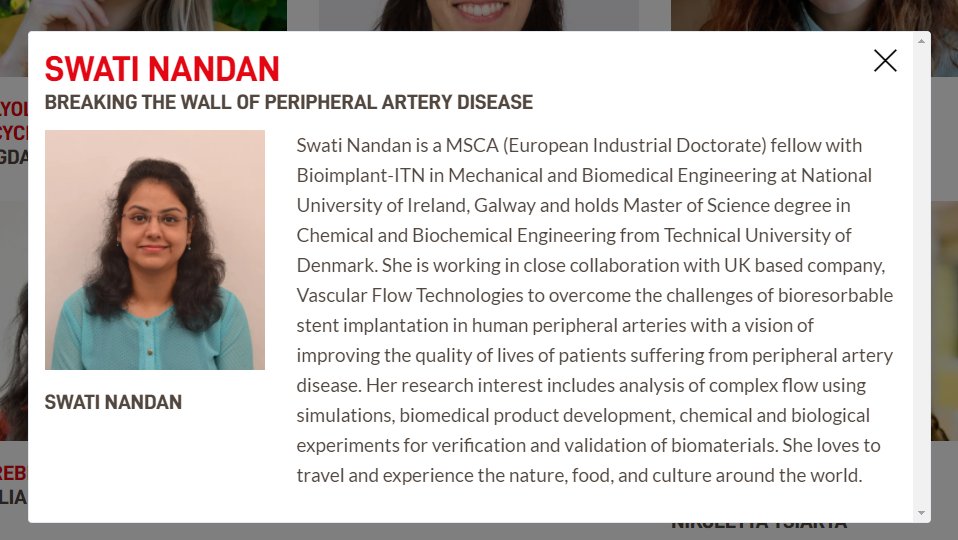 Soapbox Science 2021
On 4th September 2021, Flavia Caronna (ESR 10) took part in Soapbox Science, a public outreach platform for promoting women and non-binary scientists and their research. While this event usually takes place on the streets of Galway, in 2021 it was held as an online event as a result of the COVID-19 pandemic. The online event consisted of 9 women sharing their ground-breaking research with the public who tuned in. Flavia shared her exciting research through her talk ""Can your grandma knit a bone implant?"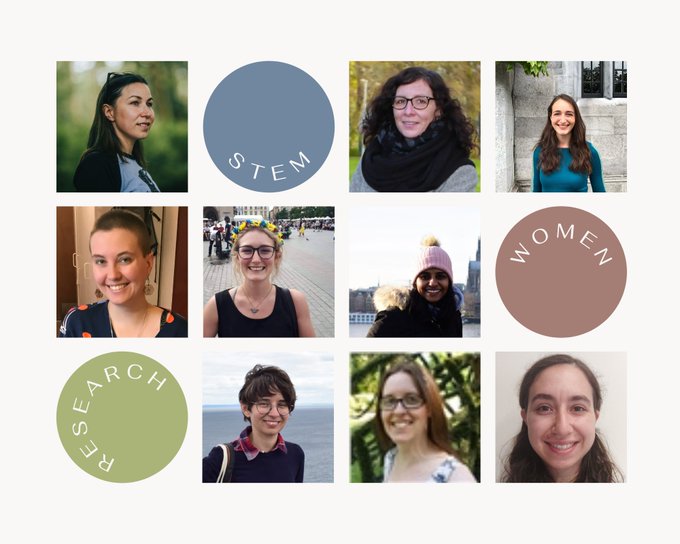 Boston Scientific Global Technology Expo 2021
In May 2021, Emily Morra presented a poster at the Boston Scientific Global Technology Expo 2020 online event, which was attended by industrial experts. Her poster can be viewed below.
Meeting with students from Politecnico di Milano, 2021
On 3rd May 2021, Agnese Lucchetti engaged with students from the Polytechnic University of Milan, the University where Agnese received her degree in biomedical engineering. This was Agnese's second meeting with this University, as part of an initiative of the Association of Biomedical Engineers of the Polytechnic University of Milan to encourage their students to pursue PhD programmes in biomedical engineering. Agnese provided a reflection on the meeting below.
"After having been a student of Politecnico di Milano for 5 years and part of BEA – biomedical engineering association for one, coming back is always a great joy and a bit like coming back home. I love talking to students and the idea that I may inspire them for their future career is something precious. For this reason I welcomed also this year the invitation of the association to speak about my PhD topic and life to master's students. It was such a nice hour and it was beautiful to see so many young students interested and engaged in the topic".
Representing Queens University Belfast at the Sir Bernard Crossland Symposium 2021
The Sir Bernard Crossland Symposium is an annual conference, first established in 1997, under the auspices of Engineers Ireland and the Council of Professors of Mechanical Engineering in Irish Universities, with delegates comprising academics, industrialists and PhD students. BioImplant ESRs Lison Rocher and Clara Hynes submitted papers to a competition within Queens University Belfast for selection to represent the University at the Sir Bernard Crossland Symposium 2021, and finished in 1st and 2nd place respectively. Congratulations to both!
Delivering Presentations to Students in Pakistan
In Pakistan, there is a lack of research resources and paid PhD positions. Also, there is a lack of awareness amongst undergraduate students regarding the career track of researchers and potential prospects. BioImplant ESR Wahaaj Ali Rizvi is a founding member of a volunteer group named Researcher's Circle, designed to promote Pakistani students pursuing PhD's in foreign countries on scholarships. In February 2021, as part of this initiative, Wahaaj provided a series of seminars to approximately 50 undergraduate students with the objectives to motivate them to pursue a Ph.D. and research career, to inform them about opportunities, to tackle existing myths and to inform them about the processes involved in PhD positions in Europe (especially Marie Curie positions) and Korea.
Medtronic Young Professionals Lightning-Round Competition at the VPH 2020 Conference
On 25th August 2020, two BioImplant fellows, Martina Bernini and Agnese Lucchetti, attended the conference 'VPH 2020: When Models, Methods & Experiments Meet the Clinic' and each gave delegates a 3-minute presentation of their PhD research during the Medtronic Young Professionals Lightning-Round Competition section of the conference.
European Research Executive Agency #MyJobInResearch Twitter Campaign
In 2020, nine ESRs took part in the video campaign launched by the European Research Executive Agency #MyJobInResearch to spread the impact of funded research. The challenge was to explain what their job in research is about in just 15 seconds. To date, 3 of these videos have been featured on the REA twitter page.
Featured videos:
Clara Hynes – click here
Flavia Caronna – click here
Felix Benn – click here
All ESR 15 second videos are available here
Presentation to University students at Politecnico di Milano
On 30th April 2020, Agnese Lucchetti delivered an online seminar to Biomedical Engineering students of Politecnico di Milano to introduce the BioImplant ITN, her research within the network and the life of a Marie Curie Fellow.
I'm an Engineer, Get me out of Here!
In March 2020, Cillian Thompson participated in I'm an Engineer, Get me out of Here! This is an online, student-led STEM enrichment activity where school students connect with real engineers through energetic, real-time text based chats. Over a 2-week period, Cillian answered all kinds of questions from school children, including "is being an engineer hard?", "why did you choose to work in health engineering?", "is the material you plan to dissolve safe for our body?" and "do engineers get a lot of money?"
Participation in FameLab UK 2020
FameLab is the world's leading science communication competition. It is designed to inspire, motivate and develop scientists and engineers to actively engage with the public and stakeholders. Felix Benn participated in FameLab UK 2020 with a 3 minute video discussing his exciting research.